Hardwood Vs Softwood Flooring; What's the difference?
Hardwood Flooring
Traditionally, hardwood is considered the higher quality wood and has been used for flooring for centuries. Hardwood tends to have a higher density then softwoods, which makes it more durable and longer lasting. That being said, it is also more expensive and harder to work with than softwood flooring. Some examples of popular hardwood timbers include; beech, mahogany, maple, walnut and probably the most common type used for timber flooring; oak.
Softwood Flooring
While traditionally hardwood is considered the higher quality wood, 80% of timber is actually softwood. This is because softwood is generally easier to work with and is less expensive. Softwood grows a lot faster than hardwood making it the more economic and environmentally friendly choice of flooring. Some examples of popular softwood timbers include, Douglas Fine, Juniper, pine, and spruce.
Timber Flooring Options
Oak
Oak flooring is an extremely hard wearing timber flooring option that has been used for centuries. This type of timber flooring has earned a positive reputation for it's strength and durability. Today you can buy 200 year old oak flooring that is still durable and looks great. When looked after properly, oak flooring will actually improve with age.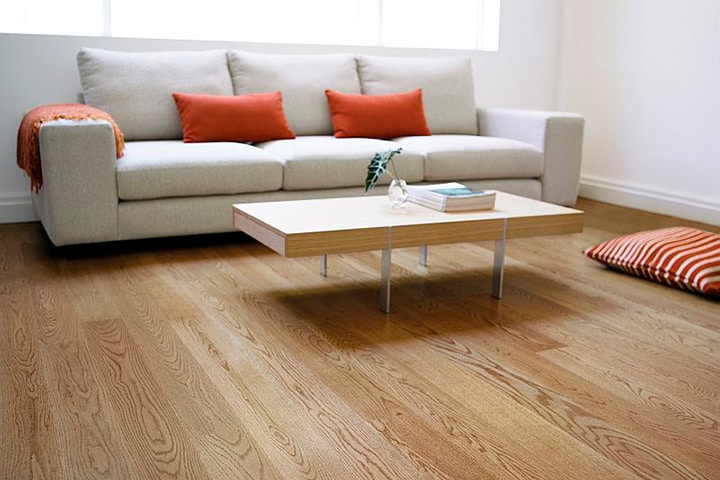 Oak Flooring Specs:
Hard wearing
Strong and durable
Can improve with age
Pine Flooring
Pine is technically a softwood however pine timber flooring is often described by builders and those in the industry as a 'hardwood' as it is actually denser than some hardwood timbers. Pine timber is extremely durable for a softwood making it a great option for affordable timber flooring. In Queensland 'hoop pine' is the most common type of timber flooring.
Pine Flooring Specs:
Softwood but often described as hardwood due to high density
Extremely durable
Affordable flooring option
Bamboo Flooring
Bamboo is technically a hardwood but is often referred to as a 'softwood' as this type of flooring is lighter, cheaper and easier to use then almost all hardwoods. Bamboo is the most environmentally friendly form of timber flooring, since it is extremely fast growing. This also allows for bamboo flooring to be more affordable than most hardwood products. Bamboo flooring comes in an exciting range of colours and makes the perfect flooring for kitchens, bedrooms and living areas.
Bamboo Flooring Specs:
A renewable source of flooring,
Recognised for its hardness and durability
Cost effective
Environmentally friendly
luxurious
exciting range of colours
Laminate Flooring
Laminate provides the look of timber with added durability. It is a manufactured product with a wear resistant protective layer, a decorative layer and a high-density fibreboard base. Laminate flooring is fade, stain and wear resistant. It's high durability makes it perfect for high traffic areas such as kitchens, hallways, dining and living rooms.
Laminate Flooring Specs:
The look of timber with added durability
wear resistant protective layer, a decorative layer and a High-Density Fibreboard (HDF) base
Fade, stain and wear resistant
Requires minimal upkeep.
Engineered Timber
Engineered timber is designed to minimize the inherent problems with solid wood namely expansion and contraction that causes bowing and cupping. It is made up of two or three layers, the top layer is usually genuine timber roughly 2-6mm thick. This type of timber flooring often creates stronger more durable floor boards but are also much easier to install then regular timber. This technology allows for even more variety of floor boards to be available then ever before as exotic species and rich colours can be simulated using oils, heat and pressure.
Engineered Timber Flooring Specs:
Designed to minimise the inherent problems of solid wood, namely the expansion and contraction that causes bowing and cupping.
Made up of layers, either three or two.
The top layer (the lamella) is normally timber and can run from 2-6mm thick
more stable than solid planks
offer alternative, easier methods of installation.
The technology has enabled the production of much wider boards
Allows for a variety of interesting finishes.
Find Timber Flooring Online
View a selection of our timber flooring range, or visit your local Andersens showroom to see our full range of timber and hardwood products.