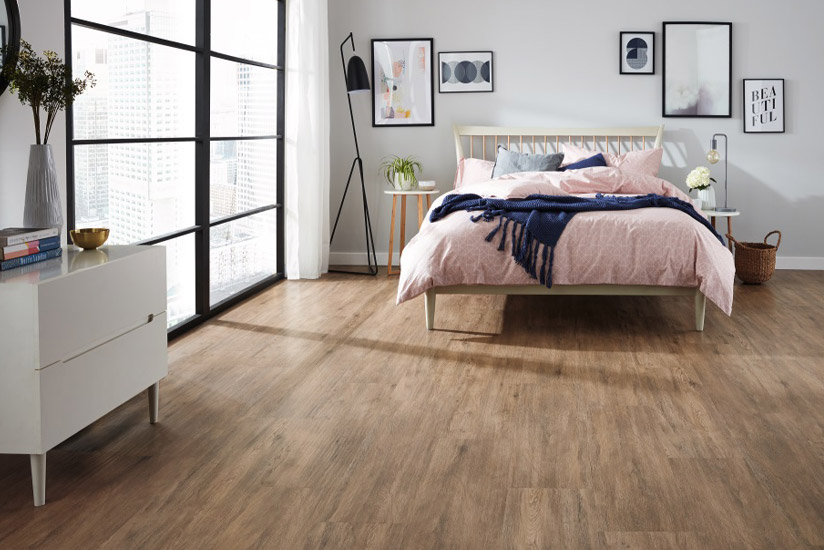 Loose lay vinyl flooring is one of the most popular floor coverings today, but as a newer option than carpet or tiles, customers still have questions about how to install or care for it. Check out our answers to some frequently asked questions about this innovative floor covering.
What is it loose lay vinyl flooring?
Loose lay vinyl flooring is a synthetic floor covering that can be installed without glue, staples, or a click lock system. It is usually made of a wear layer on top for durability, a photographic layer which bears the plank or tile's design, and stability, filler, or grip layers underneath.
What is the difference between loose lay vinyl and vinyl sheet?
Loose lay vinyl flooring is available in tile or plank formats to called loose lay vinyl plank and loose lay vinyl tile respectively. Loose lay formats more authentically replicate the look of tile and hardwood floors. In comparison, sheet flooring is lower cost and is supplied in a large roll. Grout lines or gaps between planks are printed onto the design of the sheet but do not look as realistic as a loose lay vinyl.
Do I need to use furniture protectors?
Loose lay vinyl is scratch-resistant, but moving heavy furniture across the surface can still do damage. Because of this, furniture pads and protectors are a good investment.
Is it suitable for pets?
This innovative floor covering is scratch-resistant thanks to its wear layer and protective coatings. The higher the quality of the product you choose, the better it will hold up to the activities of even the most playful puppy. The sound-dampening characteristic of vinyl minimises the noise of your pet's nails on the floor. Loose lay vinyl also enables easy clean up of any little accidents thanks to its waterproof quality.
Can it be sanded/re-surfaced/re-coated?
Loose lay vinyl cannot be sanded or re-coated as it is made from a synthetic material. Damaged planks or tiles can, however, be easily individually removed and replaced.
Will it expand or swell?
Loose lay vinyl is waterproof, so will not expand or swell upon contact with water like timber or laminate do. That being said, you should promptly mop up spills to avoid liquid seeping into any cracks between the planks or tiles.
Can I install it over existing floors?
Loose lay can be installed over any hard floor surface and long as it is smooth, sturdy, and dust-free. Note that when installing over tiles that grout lines may need to be filled in order to provide an even surface. We generally do not recommend installation of loose lay vinyl plank flooring over carpet.
Do I need to install underlay underneath?
An underlay is not essential when installing loose lay vinyl but you can install one to add cushioning and sound reduction for a comfier, quieter floor.
How do I clean it?
Loose lay vinyl plank is very low-maintenance. To clean, just sweep or vacuum, or use a damp mop and cleaning solution as suggested by the manufacturer.
Have more questions about loose lay vinyl flooring? Pop into your nearest Andersens store for answers from our flooring experts.