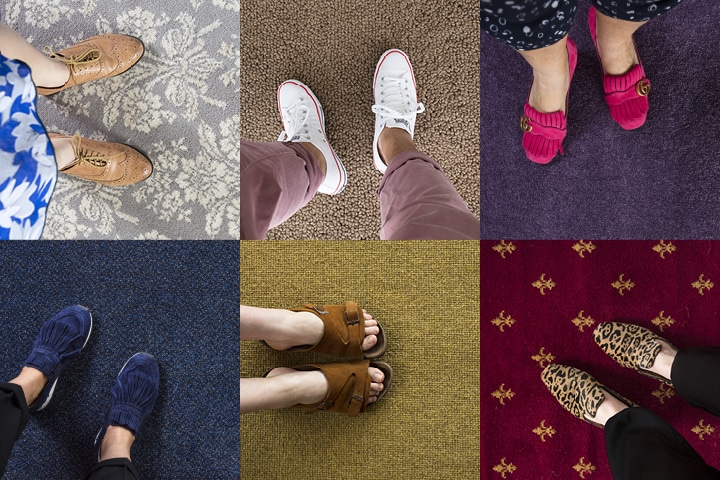 Looking for the best carpet? Let our carpet buying guide guide you! Because of factors like budget and taste, the best carpet for your neighbour might not be the best carpet for you. So, how can you decide which carpet will suit you? Start by considering these points.
FIBRES
Many home renovators dream of a bottomless bank account. The reality is most home renovators do have to consider their budget. Carpet is a more affordable flooring option but the price can still vary. The cost of your carpet will depend on which carpet fibre you choose. Check out the features of each carpet below.
Polypropylene
Synthetic

Most affordable

Colour-fast

Resists most stains

Water-resistant

Limited colour range
Polyester
Synthetic

Affordable

Soft

Lustrous appearance

Rich colour

Water and stain-resistant
Nylon
Synthetic

Stain-resistant

Durable

Wide colour range
Solution Dyed Nylon
Synthetic

Increased stain-resistance

Increased colour-fastness

Long-term durability
Triexta
Synthetic

Soft

Matte appearance

Highly stain-resistant

Partially made from corn
Wool
Natural

Luxurious

Soft

Insulating

Biodegradable
STYLES
A big part of buying carpet is style. The look of your carpet will differ based on the construction method used.
Cut Pile
Cut pile carpets are created by cutting the yarn loops to create a soft, upright pile. You can vary the pile length and twist level create a variety of styles, including:
Plush
Lightly-twisted yarn

Smooth surface

Formal look

Soft underfoot feel

Low-traffic areas

Suits formal spaces (living and dining rooms, guest rooms)
Twist
Pile twists in different directions

Random texture

Casual style

Soft underfoot feel

Durable

Hides tracking

Suits the whole home
Frieze
Longer pile

Textured finish

"Shaggy" look

Soft underfoot feel

Durable

Hides tracking

Suits high traffic areas

Suits informal spaces (bedrooms, family rooms)
Loop Pile
This style is constructed by threading the fibres through the carpet backing to form a series of loops. The following are some styles of loop pile carpets:
Level loop pile
Tightly-threaded loops

Uniform surface

Durable

Suits high traffic areas (hallways)
Multi-level loop pile
Varying lengths of loops

Textured surface

Durable

Distinct shapes and patterns

Hides dirt
Berber
Short loops

Rugged surface

Flecked appearance

Durable

Hides dirt and marks

Suits high-traffic areas
Cut & Loop Pile
Combining cutting and looping methods creates interesting sculpted patterns and effects. Installing this style of carpet adds a point of difference to your interiors.
Level cut and loop pile
Lineal patterns

Soft underfoot feel

Stylish

Hides dirt and footprints

Suits kids' bedrooms or playrooms
Textured cut and loop pile
Uneven surface

Artistic patterns

Illusion of depth

Hides marks and dirt
GRADES
Carpets are often graded against their best form of application, so if you have a really specific need for acoustic, fire or traffic rating ask one of our experienced flooring consultants to advise which type of carpet is suitable. Often, the best result for your requirements, is not most expensive option. Listed below is a brief description of the various strengths of carpet available.
Not all carpet is manufactured for the same purpose and there is a lot to consider when choosing; Andersens can advise you on the right choice for your living space. Depending on your lifestyle or need, there exists a range of grades:
Medium Duty:
Medium to Low traffic flow, best for bedrooms and spare rooms
Heavy Duty:
Heavy traffic flow, best for hallways and busy living areas. Also, good for families 2/3 kids or more
Extra Heavy Duty:
A lot of traffic flow, great for hallways and busy living areas. Also, suitable for commercial offices/shops.
CARPETS BY ROOM
Bedroom: Carpet is an amazing choice for bedrooms. Soft underfoot and warm during the colder months, carpet will not only look amazing but will also make your bedroom feel cosier.
Bathroom: Carpets might not be the best choice for your bathroom. Please speak with our sales consultant for advice on the best products for this area.
Kitchen: Much like Bathrooms, kitchens aren't the best place for carpet. With spillage, high amounts of water, chemicals etc. it might be a better option to look into tiles or vinyl.
Living: Carpet is a great choice for living areas however, a durable and easy to clean fibre should be chosen to help make sure your brand-new carpet doesn't soil or stain.
Hallway: Very similar to the Living room, the hallway or entry way is a great place to get resilient and easy to clean carpeting. Not only does it look great but it also provides comfort and can be easier to maintain then hardwoods.
Commercial Spaces: Carpet is a great choice for a commercial space.With a durable fibre and natural colour's you can do amazing things for your commercial space.
Still need more help with buying carpet? Our friendly flooring experts at Andersens will be happy to help. Visit a showroom near you.