Designing a home is more than just selecting paint colours or choosing furniture pieces. It's an opportunity for homeowners to express their unique style through the textures, colours, and materials used in their home, particularly in flooring and window treatments.
In an era where homeowners are spoilt for choice, understanding how these elements contribute to the overall aesthetic and function of a home is critical. Every selection should fit perfectly within the bigger picture to create a cohesive look and enhance the functionality and feel of your rooms.
Initiating design decisions at the early stages of building or renovation, armed with a clear visualisation of the desired style, paves the way for a successful design outcome. Whether it's a classic Hamptons style, a modern Australian look, or the clean lines of Scandinavian design, your choices in flooring and window treatments should serve as an echo of your aesthetic preferences.
Let's delve into some insights on how you can incorporate these design choices into your home, specific to your preferred style.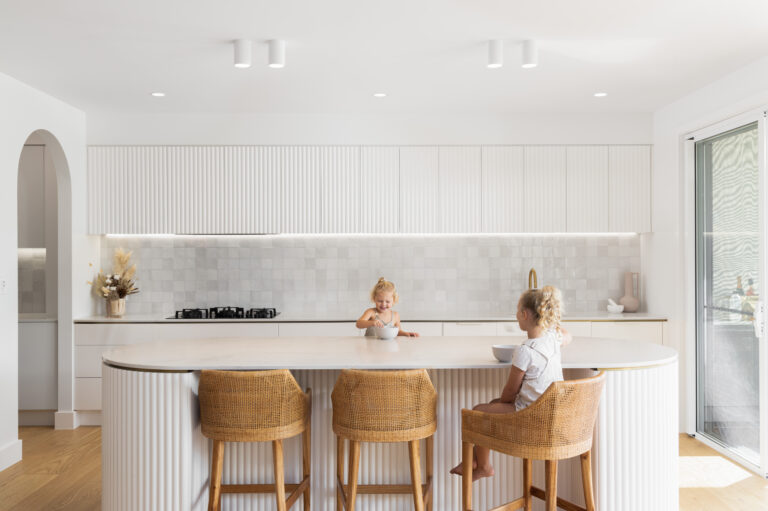 Hamptons Style: This style resonates with a coastal, relaxed, yet sophisticated vibe, typically employing light, natural materials. Whitewashed or light-coloured timber floors such as Andersens' Timbre in Ashen Oak and plantation shutters for window treatments could be ideal if you're striving for the Hamptons feel.
Modern Australian Style: Here, the focus is on open, bright spaces that reflect Australia's diverse natural beauty and the nation's laid-back vibe. Wide plank hardwood floors or high-quality laminates like Andersens' Clever XL Engineered Timber in Gold Coast (as featured above) are excellent choices. Complement these with roller blinds or venetian blinds for an airy atmosphere while retaining privacy.
Scandinavian Style: Minimalistic, functional, and clean, Scandi-style homes prefer neutral colour palettes and natural materials. Light, muted timber or vinyl plank flooring like Karndean Looselay Longboard in Wheat Oak works wonderfully here. Simple roller blinds or panel glides in light, sheer material for window treatments can still give you plenty of natural light.
Besides style, homeowners need to consider the functional aspects and texture trends in flooring and window treatments. It's vital to choose options that match your aesthetic preferences, withstand daily wear and tear, and embrace the growing appreciation for texture in home design. From high-traffic areas to households with pets or kids, finding durable, stylish, and texturally appealing solutions is key.
Textures can add depth and contrast, enhancing a room's aesthetic appeal and comfort. Current trends in flooring lean towards organic materials such as natural wood and stone-like tiles. For more affordable options, textured vinyl and laminate flooring can mimic natural materials, while high-pile carpets add cosiness. Similarly, window treatments like plantation shutters and wooden blinds can introduce natural texture, enhancing the richness of your space.
When incorporating design elements such as flooring and window treatments into your home, here are some useful tips and tricks to consider:
Plan early: The best outcomes are often a result of good planning. If you're building or renovating, start making design decisions early in the process. Having a clear vision of your desired style will aid in selecting the right materials, textures, and colours for your flooring and window treatments.


Visualise your space: Use digital tools or mood boards to visualise how your selected elements will look together. This can help you make adjustments before actual installation and avoid costly or time-consuming changes later on.


Sample first: Always request samples of flooring materials and window treatments. Seeing and feeling these in your home can offer a better understanding of how they'll look and perform in different lighting conditions and against other elements of your decor.


Functionality is key: While aesthetics are essential, don't overlook the practical aspects. If you have kids or pets, opt for durable, easy-to-clean materials. Consider the energy efficiency and light control capabilities of window treatments as well.


Layer textures: Don't be afraid to mix and match textures. A well-placed area rug can add extra comfort and style to hardwood floors, and layering different window treatments can add depth and interest to your rooms.


Work with professionals: If you feel overwhelmed by options or unsure about your choices, consider hiring a professional. Interior designers have the expertise to guide you in choosing materials, colours, and styles that will best suit your home and lifestyle.


Embrace trends, but stay true to your style: While it's good to be aware of current trends, ensure your home reflects your personal style. After all, trends come and go, but your home should be a place where you feel comfortable and at ease.
Remember, home design is an immersive experience. Every choice you make not only creates a space but builds an environment that is uniquely yours. Choose wisely, and the outcome will be a home that is not only visually impressive but functional and in harmony with your lifestyle.
Ready to bring your vision to life? Discover our wide range of flooring options and window treatments, or consult with our professional in-house interior designers to guide you. Your dream home is within reach – let's create it together. Start your journey at your nearest store today!